In today's uber-connected world, borrowers expect easy, fast and comprehensive mortgage services from their lenders. To win their business, lenders are digitizing operations to provide more offerings and services across ecosystems of clients, regulators, partners and providers. In response, Fintech ISVs are developing next-gen digital mortgage solutions and open APIs that enable interoperability and data sharing across digital channels and networks, speeding transactions, reducing costs and delighting customers. It's called the API Economy - and for good reason.
APIs make MLO-related data and functionality interoperable and reusable in different contexts and environments. By integrating valuable assets from partners, regulatory agencies, and third parties, they can expand their product portfolios, enforce compliance, spur innovation, and reach multichannel customers with less effort.
The Need for APIs
Although API is rather old technology, it offers exceptional new potential for end-to-end digital lending solutions and new revenue opportunities. Currently, lenders and cloud-native MLO startups are using APIs to drive efficiency, increase margins, and enter new markets. Here's why organizations need to view APIs as a core element of their digital transformation strategies:
Speed-up Application Development: Placing APIs at the foundation of application development can drastically reduce SDLCs. By creating and maintaining stable and robust interfaces via APIs, lenders and ISVs can restructure, organize and augment internal systems and support new projects in a uniform fashion. This operational agility not only speeds time to market, but it also supports innovative ways to service customers, generate revenue, and build partnerships.
Make MLO Functionality Reusable: In addition to accelerating the application development lifecycle, APIs allow ISVs to build best-of-breed solutions quickly using reusable components rather than building from scratch. Since APIs allow for seamless integration with existing and new features and technologies, ISVs can, for example, easily query diverse data sources and automatically trigger actions or workflows to complete business processes.
Expand the MLO Ecosystem: Another pressing reason for embracing the API Economy is to expand the MLO ecosystem. Since APIs allow developers to use the framework of choice, they can use any technology stack or programming language and configure solutions that work well with any number of out-of-the-box solutions. By adopting a modern, API-first approach, mortgage lenders can easily connect internal solutions, integrate popular MLO features and products, and quickly respond to change to maintain a competitive edge.
Improve Product Security: When it comes to security, poorly designed APIs may expose some vulnerabilities. However, with modern access control mechanisms in place, mortgage lenders and ISVs can effectively manage product security. Role-based access control, data encryption, and ML-based monitoring can prevent unauthorized access and flag transactions for suspicious activity – all while providing a frictionless user experience.
Build Next-Gen Digital Mortgage Solutions and Experiences: APIs also help in building next-gen digital mortgage solutions and delivering advanced mortgage services and experiences. By offering intuitive UIs and integrating third-party APIs into the MLO solution, lenders and ISVs can offer new products, build new workflows, automate front-to-back-office processes, and provide highly secure, modern experiences.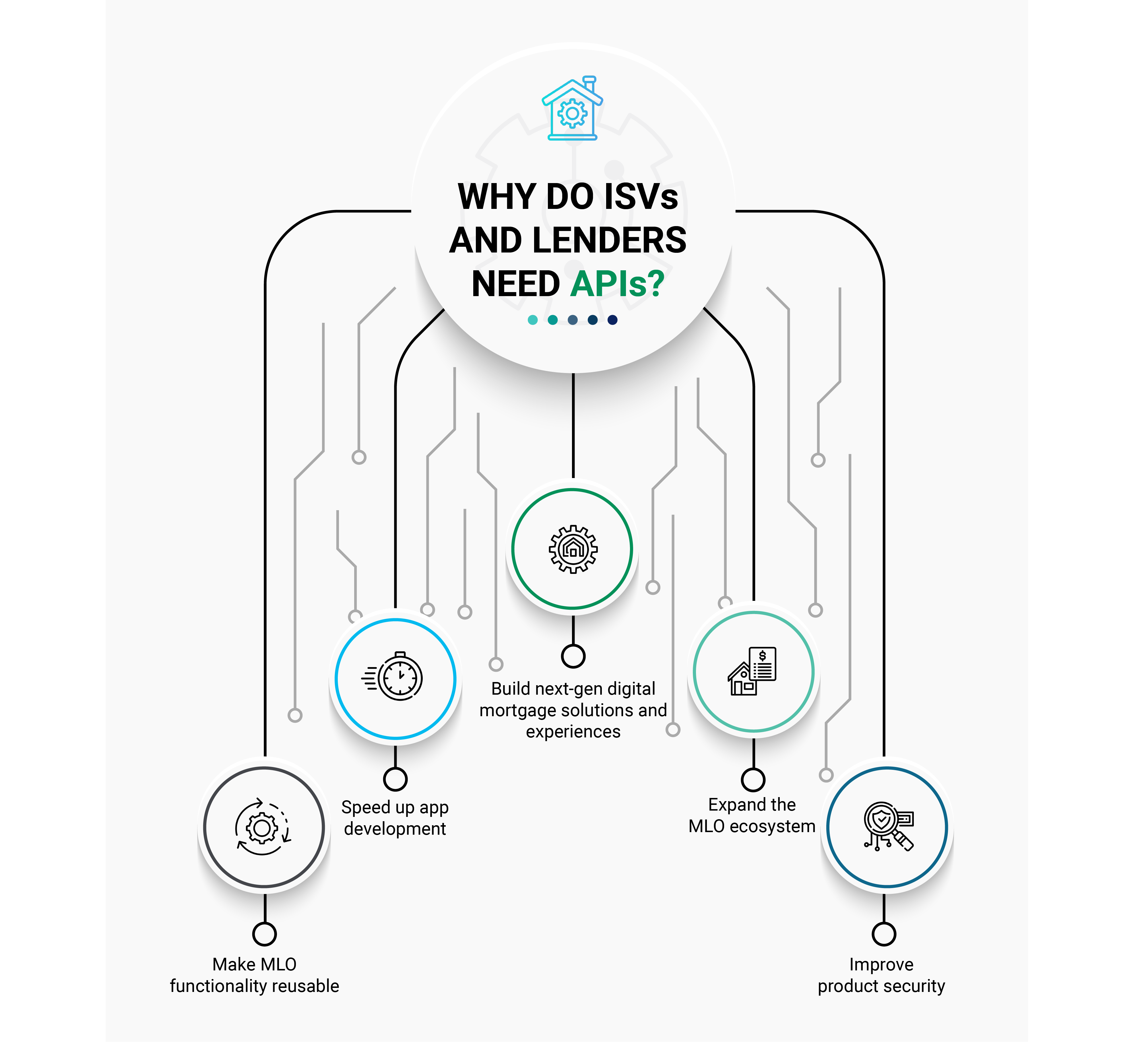 The Benefits of APIs for End-to-End Digital Lending
As a mortgage lender or ISV, if you are looking to drive higher profits and growth for your business, investing in the API Economy is key to your success. Here's looking at the top benefits of APIs for end-to-end digital lending:
Data Consistency and Accuracy: APIs offer a great way to ensure data consistency and accuracy. By openly and securely sharing information such as loan origination and servicing, mortgage lenders can eliminate the time and resources needed for complex data migration.
Better Compliance: Embracing APIs also helps facilitate compliance. Since lenders can quickly set up processes to generate compliance reports, they can provide the data required to comply with new and evolving regulations – and ensure prompt compliance.
Increased Revenue: APIs offer the benefit of increased revenue via upselling and cross-selling. API integrations present exciting opportunities to promote access to certain features. They can also be used to attract new customers, while eliminating cost-related barriers to the adoption of mortgage solutions. The more customers use the APIs, the more revenue you will generate.
Improved Efficiency: APIs aid in improving business efficiency and productivity. Since APIs help in gathering data and integrating functionality from different sources and systems, mortgage lenders and ISVs can increase visibility into operations, add capabilities, and take appropriate actions. Since APIs also provide detailed insight about processes, they enhance decision making – thus improving business productivity and efficiency.
Automated Workflows: Although automated workflows are not a direct benefit of APIs in the realm of digital lending, they do offer a high level of maturity to lenders and ISVs. For instance, lenders can connect their loan origination system with credit-scoring agencies to immediately determine loan eligibility – speeding up the loan process while also accelerating time-to-value.
Better Monetization via Data or Service Ordering: Mortgage lenders can also monetize APIs as a new revenue stream for their business. By strategically charging fees for certain endpoints, lenders can offer software developers direct access to APIs via pay-per-use or fixed-price plans. Having well-developed APIs can enable innovative business models that allow lenders to create and strengthen relationships, build on new ideas and drive innovation via acquisitions, and invent new monetization concepts to boost profits.
Like it or not, the mortgage and lending industry is experiencing a digital revolution. Facing stiff competition not only from large and established players but also from new-age, digital startups, the only way to keep up is via constant innovation and the creation of new business models to support digitized lending.
APIs offer a great way for mortgage lenders and ISVs to engage with customers, transform and grow. By speeding up app development, encouraging reusability, and expanding the ecosystem via integration, APIs can help build next-gen digital mortgage solutions and experiences that deliver modern – and profitable – consumer-centric services.
Discuss APIs for Digital Mortgage with Xoriant Experts, write to: PE@Xoriant.com